Product Description
Product Description
The Cressi Tracina 3.5 mm Mens Spearfishing Two Piece Wetsuit is manufactured with super flexible, incredibly comfortable, soft metallite lined neoprene. This material is designed for maximum flexibility. Forget the old constricting ways of standard neoprene. It's flexible enough for full, unrestricted free motion to the wearer and meant to be unrestricting in all movements involved in spearfishing, freediving and swimming.
Cressi prides themselves in their excellent wet suit cuts. The Cressi Tracina is no exception. Its anatomical design cuts offer a comfortable form fitted feel. The suit design is pre-shaped arms and legs that improve flexibility and the ease of swimming.
The computer printed camouflage pattern ensures your invisibility and stealth to unsuspecting prey with its Mimetic colouring. Mimetic colouring makes it difficult for your prey to see a solid image, meaning you seamlessly blend into the background.
The Cressi Tracina is a two-piece wetsuit, which includes overalls and a jacket with built-in hood. The jacket, hood and calves feature nylon mimetic zones to further add to the suits comfort. Plus, Smoothskin watertight seals on the hood, wrists and waist ensure warmth. As an added durability feature, the knee and shin area of the overalls and the elbows of the jacket are reinforced.
The jacket offers extensive back support to lessen the load imposed by the spear gun. All seams are glued and sewn for strength and durability.
Cressi Tracina 3.5 mm Two Piece Spearfishing Wetsuit Features
Mimetic camouflage design
Advantage of Computer Designed Patterns
Renders Diver Nearly Invisible
Soft metallite lined 3.5 mm neoprene construction
2-piece design for added warmth
Hooded Jacket with Interlocking Frog Fly Closure
Seams: Glued and Sewn for Strength and Durability
Reinforced elbows, chest Pad and groin closure
Durable knee pads
Arms and Legs Anatomically Cut for Ergonomic Form Fit
Black metalite inner lining for easy on/off
Chest Pad for Easy Gun Reloading
Sold as a full suit only, i.e. overalls plus hooded jacket.
Cressi Tecnica Men's Wetsuit Size Chart
Available in sizes 2 to 7.
| Size | Weight | Height | Chest | Waist | Hip |
| --- | --- | --- | --- | --- | --- |
| | kg | cm | cm | cm | cm |
| S/2 | 58-65 | 168-175 | 87-92 | 71-74 | 80-85 |
| M/3 | 63-78 | 170-178 | 92-98 | 74-78 | 80-85 |
| L/4 | 75-85 | 175-183 | 98-103 | 78-83 | 88-93 |
| XL/5 | 83-95 | 177-186 | 103-107 | 83-87 | 95-98 |
| XXL/6 | 88-100 | 179-192 | 107-110 | 87-93 | 98-103 |
| XXXL/7 | 95-110 | 181-196 | 110-114 | 93-97 | 102-107 |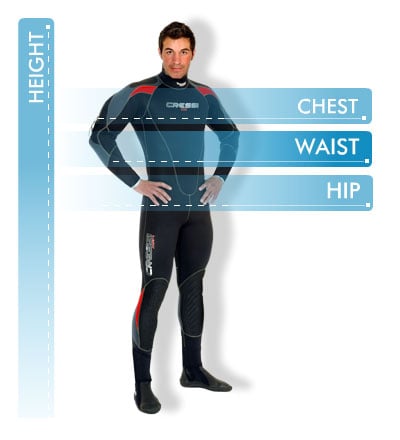 How to measure
Chest: Place tape under arm and measure around the fullest part of your chest
Waist: Measure around your natural waistline
Hip: Measure around the fullest part of your bottom at the top of your leg
Height: Measure from the bottom of your feet to the top of your head
Find Similar Products by Category